Introduction:
This equipment is specially designed to meet fieldwork requirement. Equipped with car wheels, it can easily move to any work site by traction. ZYM is for processing oils in workshops, in storage tanks or directly in transformers (energized or de-energized transformers). It improves the oil's dielectric strength and remove free and soluble water, free and dissolved air and gases and other particulate matter.

Features:
1. Mobile (trailer) type to move easily; completely closed structure, waterproof, dustproof,
2. Installation of car tyres, bridge shock absorber, braking system and steel welding of entire trailer guarantee 60km/h speed.
3. Multi-stage precision filtration system, mesh filtration combined with molecular adsorption technologies
4. Efficient electric heating system, heating uniformity, less power consumption, safe, and reliable.
5. Double-infrared liquid level sensor, pressure protective system to ensure easy and safe operation.
6. Double-infrared liquid level sensor, pressure protective system to ensure machine operation easy and safely.
7. Adopting interlocked protective system, which connect oil pump, heater and liquid level sensor, avoiding blank heating, blank pumping, oil leak and electricity leak. If there is any fault, machine will be power off automatically
Technical Parameters:
Parameters
Unit
ZYM -6
ZYM -10
ZYM -20
ZYM -30
ZYM -50
ZYM -100
ZYM -150
ZYM -200
ZYM -300
Flow rate

L/hr

360

600

1200

1800

3000

6000

9000

12000

18000

Vacuum degree

MPa

-0.06~-0.095

Working pressure

MPa

≤0.3

≤0.4

≤0.4

≤0.4

≤0.5

≤0.5

≤0.5

≤0.5

≤0.5

Temperature range

ºC

20 ~ 80

Continuous working

H

150

Power supply

Three phase,50HZ ,380V(or as per customer requirement)

Working noise

dB(A)

60

61

63

70

70

75

70

70

70

Heating power

kW

9

11

13

15

30

48

58

70

85

Total power

kW

9.7

12.5

14.5

16.5

33.5

53

65

76

94

Oil inlet/outlet

mm

φ20

25

φ25

φ25

φ32

φ42

φ50

φ50

φ60

Weight

Kg

150

230

250

270

300

500

700

900

1100

Size
L

mm

970

1050

1100

1150

1200

1600

1600

1800

1900

W

mm

630

750

850

900

950

1000

1100

1200

1200

H

mm

900

1300

1400

1450

1500

1800

1800

1900

1900

Item
Guarantee indexes
Moisture content

≤5 PPM

Impurity size

≤1 micron

Gas content

≤0.1%

Breakdown voltage

≥70
Our Service
Pre -sale Service:

After-sale Service:
1. Reply promptly in 24 hours with fluent English 1.The warranty period is 24 months from commissioning
and professional knowledge. acceptance date on. After the warranty period is over we
2. Provide best necessary spare parts at low provide lifelong maintenance and technical service.
price (some for free). 2. We guarantee the maintenance time no more than 3
3. If there is something wrong with the equipment, working days and response time within 1 hour.
give a response and provide the solutions in 24h 3. We build instrument service profile for our clients to
4. Provide long term technical support and innovation record the product service and maintenance conditions.
upgrade guidance. 4. After instruments start service, we will pay follow-ups
5. OEM is available for TOP Products. to collect the service conditions.
6. Protect sales area, ideas of design and all your
private information.

Our Company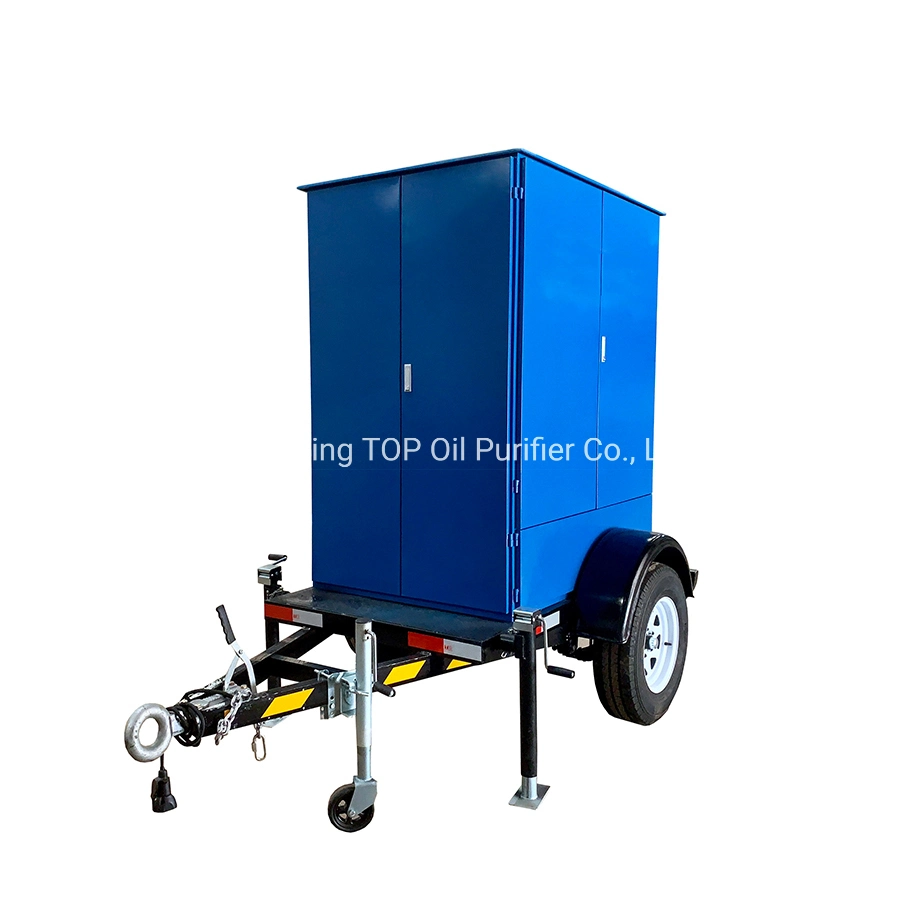 Chongqing TOP Oil Purifier Manufacture Co., Ltd is a professional leading manufacturer of oil purifiers and oil testers. We have tremendous strength in the fields of research, development and manufacturing with professional mass-production ability, perfect sales network, excellent after-sales service as well as a perfect image we earned in the competitive market.

Our main products are: Insulting Oil Purifier, Turbine Oil Purification machine, Hydraulic Oil Purifier, Lubricating oil filtration machine, Transformer Oil filtering machine, fuel oil restoration, Steam-Turbine Oil reconditioner, Dielectric fluid regeneration system, Circuit-Breaker Oil recovering system, Compressor Oil recovering machine, Gear Oil renewal machine, Coolant Oil treatment, Quenching Oil reclaiming machine, Oil and Water Separator, Steel-Rolling Oil regeneration equipment, Waste automobile Oil Recycling equipment, petroleum machine and Oil Tester, etc.



Our oil filtration machine:

Series ZY Single-Stage Vacuum Transformer Oil Purifier
Series ZYD Double High Vacuum Transformer Oil Purifier
Series ZYB Multiply-Function insulating oil treatment machine
Series TY Turbine Oil Purification Apparatus
Series TYA Lubricating oil/ hydraulic oil purification unit
Series TYB Portable light Fuel oil purification machine
Series TYD Vacuum dehydrator
Series TYF Phosphate ester fire-resistance oil purifier
Series PL Plate pressure oil purifier
Series TYD Vacuum dehydrator
Series EFD Explosion protection filtration machine
Series BAM Press filtration system
Series ZKCC Vacuum pumping device
Series COP Cooking oil purification machine
Series CYS Centrifugal oil purification machine
Series JL Portable oil filtering and oiling machine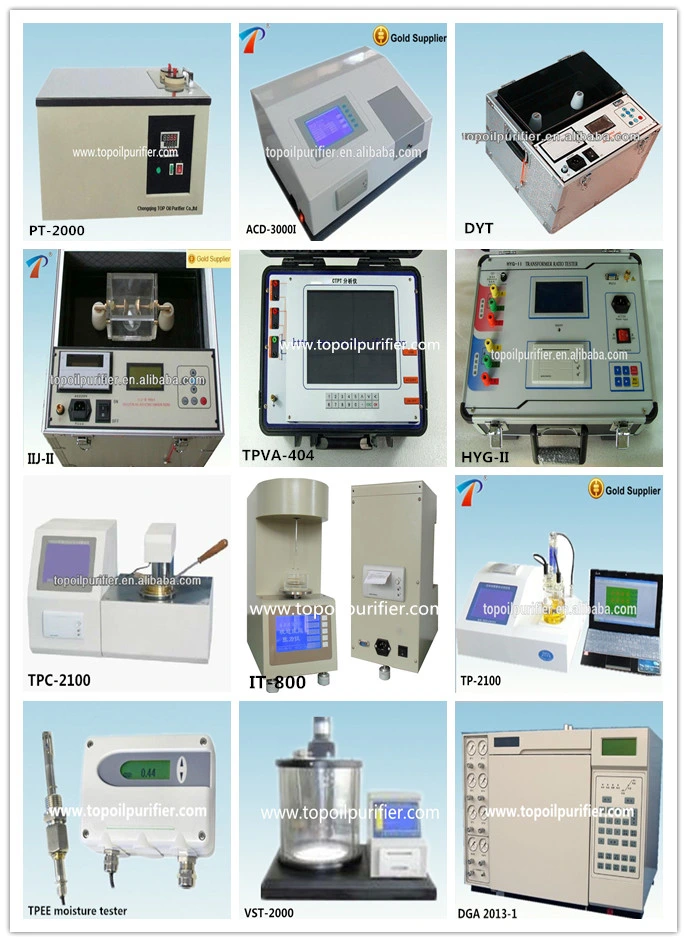 Petroleum Products General Testers:
1.Fully Automatic Karl Fischer Water Content Tester TP-2100
2.Digital Karl Fischer Water Content Tester TP-6A
3.Kinematic Viscosity Tester VST-2000
4.Kinematic Viscosity Tester TPV-8
5.Kinematic Viscosity Tester VST-3000
6.Fully Automatic Oil Acidity Tester (6 cups) ACD-3000I
7.Fully Automatic Surface/Interface Tension Tester IT-800
8.Automatic Surface/Interface Tension Tester (Platinum Plate Method) IT-800P
9.Fully Automatic Open Cup Flash Point Tester TPO-3000
10.Fully Automatic Closed Cup Flash Point Tester TPC-3000
11.Digital Open Cup Flash Point Tester TPO-100
12.Digital Closed Cup Flash Point Tester TPC-100
13.Cloud Point & Pour Point Tester PT-2000
14.Multi-functional Vibration Tester VBT-2000
15.Automatic Potentiometric Titrator TP668
16.Petroleum Products Density Tester DST-3000
17.Petroleum Products Density Tester TP-109A
18.Karl Fischer Volumetric Water Content Titrator TPD
19.Distillation Range Tester DIL-201
20.Online Oil Quality Tester PTT-002
21.Liquid Phase Corrosion Tester TPS-05
22.Copper Corrosion Tester TP-113
23.Petroleum And Synthetic Liquid Anti-Emulsification Tester TP-122
24.Dew Point Tester DPME-P
25.Portable Chilled Mirror Dew Point Tester TP-1500