General
KYN28 indoor metal-clad withdrawable switchgear(hereinafter short as switchgear)is a complete power distribution device for 3.6~24kV,3-phase AC 50Hz,single-bus and single-bus sectionalized system. It is mainly used for power transmission of middle/small generators in power plants; power receiving, transmission for substations in power distribution and power system of factories, mines and enterprises, and starting of large high-voltage motor, etc.,so as to control, protect and monitor the system. The switchgear meets IEC298,GB3906-91.In addition to be used with domestic VS1 vacuum circuit breaker, it can also be used with VD4 from ABB,3AH5 from Siemens domestic ZN65A,and VB2 from GE, etc.,it is truly a power distribution device with good performance.
In order to meet the requirement for wall mounting and front-end maintenance, the switchgear is equipped with a special current transformer, so that the operator can maintain and inspect it in front of the cubicle.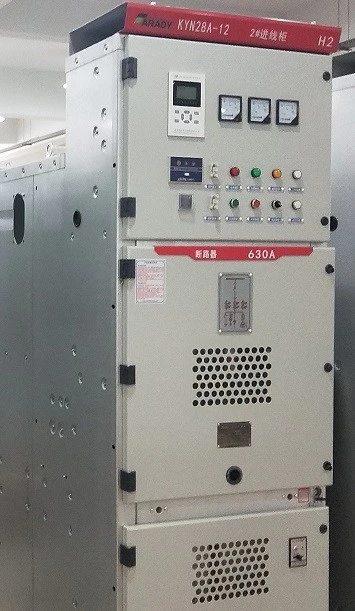 Service environment
a) Air temperature: Maximum temperature: +40ºC; Minimum temperature:-15ºC
b) Humidity: Monthly average humidity 95%; Daily average humidity 90% .
c) Altitude above sea level: Maximum installation altitude: 1000M.
d) Ambient air not apparently polluted by corrosive and flammable gas, vapor etc.
e) No frequent violent shake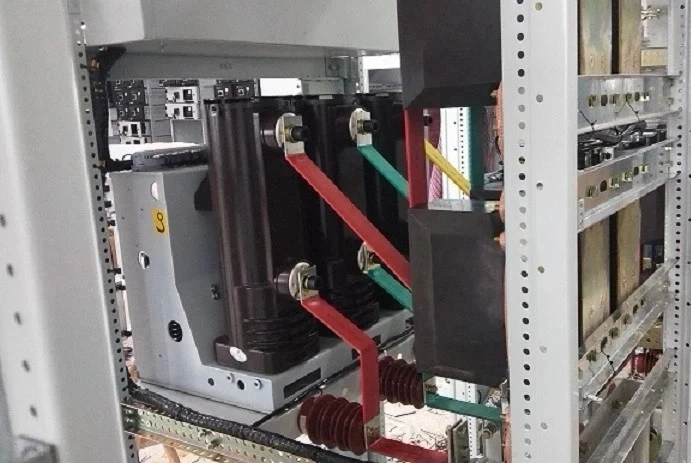 Technical data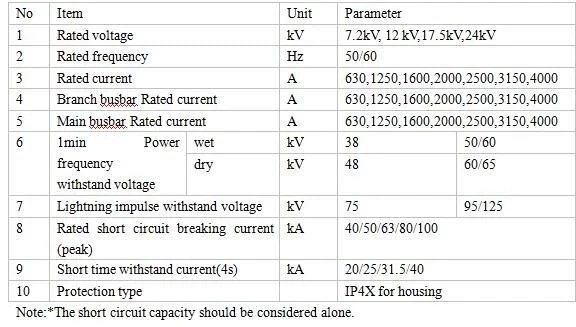 Structure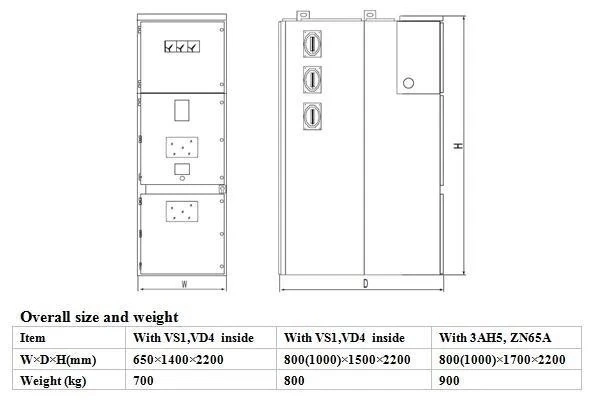 Notice:
when the rated current is more than 1600A, cubicle width shall de 1000 mm, and cubicle height will be 1660mm and for schema of rear overhead line in.

1)Width of cabinet:650mm(compound insulation)or 800mm(air insulation) at current<1250A;

2)Width of cabinet:1000mm at current>1250A;

3)Depth of cabinet:1400mm,at cabinet width of 650mm(compoud insulation)when employing the configuration of incoming and outgoing cables;

4)Depth of cabinet:1500mm,at cabinet width of 6800mm(air insulation)when employing the configuration of incoming and outgoing cables;

5)Depth of cabinet:1600mm,when employing the configuration of rear overhead incoming and outgoing cables.
Structure feature: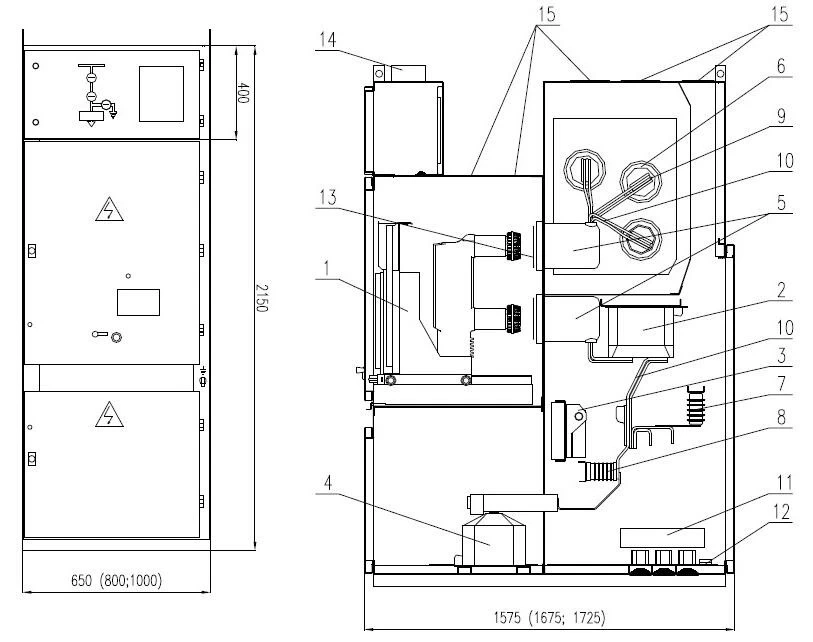 Compartment
busbar compartment; circuit breaker compartment; cable compartment; low-voltage compartment.

1 - main device: circuit breaker, contactor,

2 - current transformers,

3 - earthing switch,

4 - voltage transformers,

5 - support-bushing insulators,

6 - bushing insulators

7 - surge arresters,

8 - support insulators (reactance),

9 - main busbars.

10 - connecting (distribution) busbars,

11 - earth-fault current transformer,

12 - earthing conductor,

13 - metal movable particions,

14 - cable ducts (optionally),

15 - vent flaps,
Certification




Packing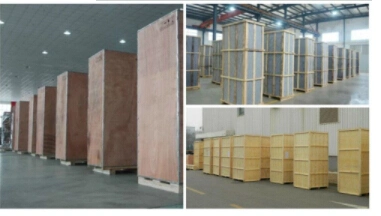 About us
Farady is located in Liushi of Yueqing, a costal city, which is often referred as the Electric Products Capital in China. Boardered by the State road, highway, and high-speed railway, close to SHANGHAI/NINGBO/WENZHOU sea ports, and the Yongqiang International airport in Wenzhou, we enjoy a great advantage in transportation which thus can guarantee our clients the fast shipping.
All the products of ours have passed the national laboratory type test, which also wins the STATE GRID of China as one of our contractors.
The company is equipped with the state-of-the-art technology, sophisticated facilities, ISO9001 quality management system certification and ISO14001 environment certification approval.
We also enjoy the Certification of New Hi-tech Enterprises, National Spark Program, and own more than 70 item transformer patents, with which our products are not only popular in the domestic market but also exported to Southeast Asia, South America, Africa and the middle east.
Today, boasting the value of products specialization, brand management, and business globalization, with the sprits of pragmatism, innovation, efficiency, and responsibility, Farady Company is dedicated to become the biggest name in China, and contributes its share to the transformation from the Made in China into the Invented in China.