Product Description
iUniuswitch Air Insulation Ring Main Unit
iUniswitch, the light flexible switchgear developed as a modular, simple to apply design, with fewer components, providing a high reliable, quality and safe product for you, our Customer. By reducing the number of components, utilising modern materials correctly, we have developed an environmentally and user friendly product. The simple design and construction of iUniswitch will stand the test of time for generations to come.

iUniswitch is an air insulated (AIS), metal enclosed, switchgear cubicle design of the next generation developed through continuous innovation and vision to meet the changing market needs.

iUniswitch provides long-term technical solutions for various applications. Safety, user friendliness and environmental con- cerns have been the driving force in the development of the switchgear.

Feature
iUniswitch product provides our Medium Voltage Customer with the best solution for heavy duty switchgear in a size only a little than a single tank Ring Main Unit while including:

the flexibility in meeting our Customers specification and accomodating on future change and upgrading
the options include complete control, measuring and protection systems

Switchgear Construction
Metal enclosed switchgear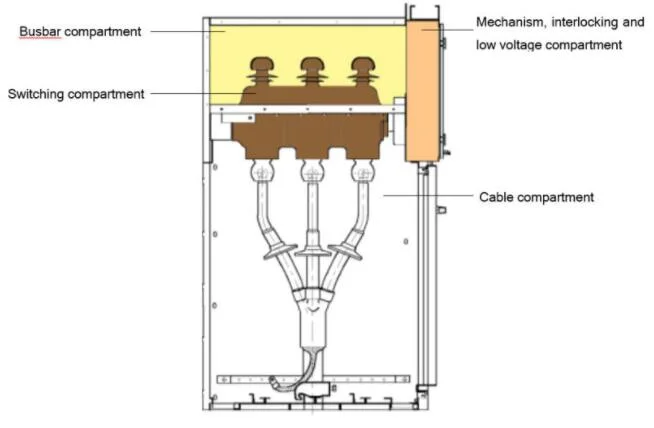 The busbar compartment is located on the top of the cubicle. This compartment contains the main busbars that intreconnect between switchgear cubicles.
A 3-position SF6 switch disconnector with epoxy cast resin housing is provided with inspection windows and available also with gas density indicator.
75 % of the space in the switch disconnector cubicle is reserved for power cable connection making it possible to use both 1- and 3-phase cables with most simple unscreened terminations. Space is also adequate for cubicle accessories such as surge arresters, current transformers, second earthing switch etc. The door has an inspection window and safety interlocking as standard. For cable entry there are 3 individual cable gland plates in the bottom with support for a suitable dimensioned cable clamp. The bottom and the threshold of the cubicle can be removed for ease of cable installation.
Mechanism, interlocking and low voltage compartment
Behind a hinged door (which serves as control panel) are located the spring operating mechanism with position indicator and the mechanical interlocking unit. There are also facilities for cubicle accessories such as: auxiliary contacts, tripping coil, emergency tripping mechanism, capacitive voltage presence indicating system, key interlocks and motor operating device. Space is also provided for control circuits and measuring instruments as well as a protection relay. In the 750 wide cubicles there is also a second indentical compartment for further accessories.

The upper part of the cubicle, including the busbar compart- ment, the switch disconnector and the mechanism and low voltage compartment is separated from the lower part and the cable compartment. Because of this it is possible to carry out maintenance, repair and upgrading of the unit in the lower module while the switchgear is in service.

Switchgear Construction
Primary part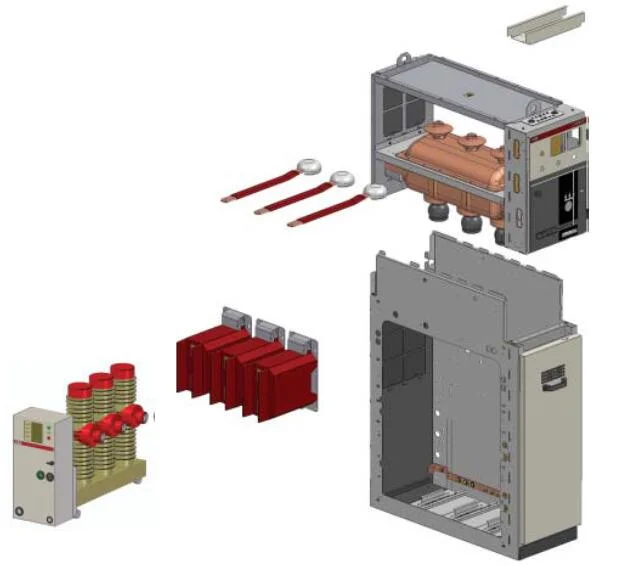 Top unit
3-position switch disconnector SFG

Operating mechanism with mechanical position indication

Enclosure of busbar compartment

Integrated low voltage compartment for secondary components

Interlocking unit

Busbars

Control cable ducts
Bottom unit
Enclosure

Circuit breaker (fixed version)

Current transformers

Earthing switches

Voltage transformers

Cable entry with cable support
Cubicle Types / Cubicle Program
Switch Disconnector Cubicle, type SDC

Switch Disconnector with Fuse, type SDF

Circuit Breaker Cubicle, type CBC

Withdrawable Circuit Breaker cubicle, type CBW

Sectionalising Cubicle, type SEC

Bus Riser Cubicle, type BRC

Sectionalising cubicle with Fuse, type SEF

Sectionalising Breaker Cubicle, type SBC

Direct Busbar connection Cubicle, type DBC

Sectionalising Withdrawable Breaker cubicle, type SBW

Sectionalising Metering cubicle with Disconnector, type SMD

Bus Metering Cubicle, type BMC

Sectionalising Metering Cubicle, type SMC

Universal Metering Cubicle, type UMC
Technical data
Rated voltage

kV

12

24

BIL

common value

kV

75

125

across the isolating distance

85

145

AC withstand voltage

common value

kV

28 1)

50

across the isolating distance

32 1)

60

Rated frequency

Hz

50/60

50/60

Rated current

busbar

A

630/1250

630/1250

feeder

A

630/800/12504)
630/1250 4)

Rated short-time withstand current

main circuit

kA

25

20

earthing circuit

kA

25

20

Rated peak withstand current

kA

65

50

Rated duration of short circuit

s

1

1

Arc-fault current, 1s

kA

20

20

Degree of protection, enclosure

IP2XC

IP2XC

Degree of protection, partitions

IP2X

IP2X

Ambient temperature

maximum value

[ºC]

40

40

maximum value of 24 h-mean

+35

35

minimum value

-5 3)
-5 3)

Altitude above sea level

[m]

<1000 2)
<1000 2)
1) Higher values in accordance with national standards on request
2) Adjustment is necessary for greater altitudes
3) Lower ambient temperature on request.
4) 1250 A = CBW, SBW, BRC, DBC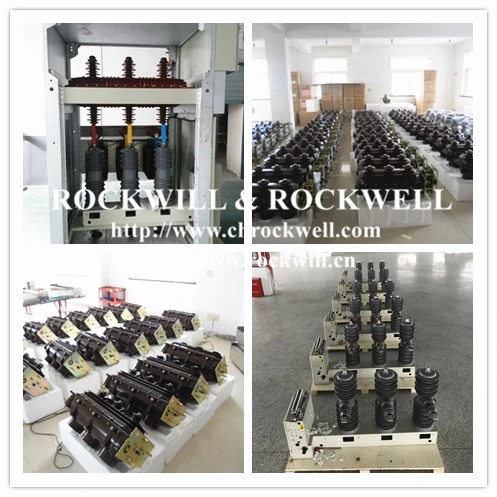 ATTENTION:
1.The payment term: We accept TT,30% deposit and 70% balance against copy of BL.
2.The delivery time: Usually it will take about 15-20 days.
3.The standard of package: Usually use strong plywood case for protection.
4.The material of transformer: We have two types, one is with copper and another one is with aluminum. It depends on your requirement. In fact, those two have difference if normal work well. Only except the long life. Copper is better and also higher price.
5.The logo: If you have good quantity, it absolute no problem to do OEM.
6.Our market: our products are popular in Indonesia, Philippines, Russia, USA, Middle East and so on. Some of them are our regular customers and some of them are developing. We hope you can join us and make mutual benefit from our cooperation..
7.Warranty: in 12 month since BL date.
OUR SERVICE:
1.quick response in before sales period help you got order.
2.excellent service in production time let you know each step we made.
3.reliable quality solve you after sale headache.
4.long period quality warranty ensure you can buy without hesitate.
WHY CHOOSE ROCKWELL:
1. One-stop supplier globally.
2. More than 10 years professional experiences in electrical appliance industry.
3.We offer professional online technology support for perfecting your electrical solution free.
4. Experienced sales service and suggestion.
5. All the products with accessories under strict quality control and final inspection before shipping.
6. We can assure the powerful competitive price and reliable quality products.
7. Most competitive shipping rate from our own shipping forwarder.
8. Warranty assurance: 12 month
9. Whatever big or small order, we can provide you one-to-one service.
CONTACT US:
Contact person: Mr. Chen Chengming
Tel:86-577-27869969
Mobile:86-18668777248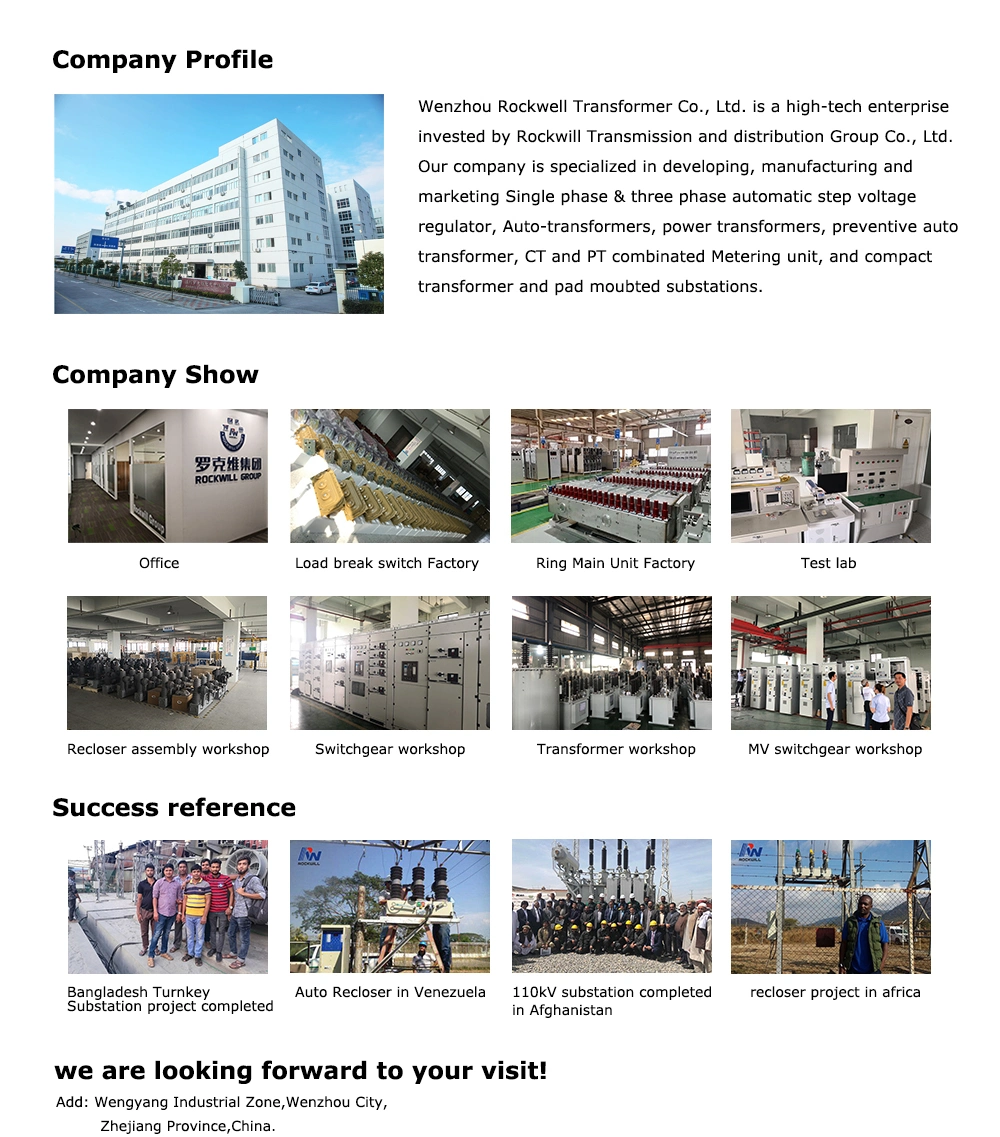 Your Best Choice for Electrical Appliances Industry!!!
Please leave an inquiry to know more details about Price , Packing ,Shipping and Discount.