24kv Outdoor Stand Type Gas Insulated Compact Switchgear
General
OMR is a ring main unit for the secondary distribution network. RMU(OMR) can be supplied as a 3 or 4-way standard configurations with additional equipment according to customer specification. OMR can be supplied in 10 different configurations (Such as CVC, CCV, CVV, CFF, CCC, VVV, CCVV etc) suitable for most switching applications in 12/24 kV distribution networks.
It is extendable and combined with our own developed technology concept, which is flexible, modular compact switchgear, they represent a complete solution for 12/24 kV secondary distribution networks. OMR have identical user interfaces.
OMR is a completely sealed system with a stainless-steel tank containing all live parts and switching functions.
A sealed steel tank with constant atmospheric conditions ensures a high level of reliability as well as personnel safety and a virtually maintenance-free system.
The OMR concept offers a choice of either switch-fuse combination or circuit-breaker with relay for protection of the transformer. OMR can be supplied with an integrated remote control and monitoring unit.
This product is in conformity with the standards: IEC62271-200, IEC60420
Note: Available modules of Safe Plus outdoor RMU(OMR) are:
C: Cable load switch module(disconnecting switch)
F: Load-fuse switch combination module
V: Circuit breaker, disconnecting switch combination module
Service environment

a) Air temperature: Maximum temperature: +45ºC; Minimum temperature: -20ºC
b) Humidity: Monthly average humidity 95%; Daily average humidity 90%.
c) Altitude above sea level: Maximum installation altitude: 2500m
d) Ambient air not apparently polluted by corrosive and flammable gas, vapor etc.
e) No frequent violent shake

Technical Datas

No

Item

Unit

Load Break Switch

Circuit Breaker

1

Rated voltage

kV

12/17.5

24

12/17.5

24

2

Rated current

A

630

3

Rated frequency

Hz

50/60

4

1min Power frequency withstand voltage

kV

38/45

55

38/45

55

5

Lightning impulse withstand voltage

kV

75/95

125/150

75/95

125/150

6

Rated transfer current

A

1700

1400

7

Rated active load and close circuit breaking current

A

630/1250

8

Rated cable charge breaking current

A

50&10

9

Rated short circuit breaking current

kA

20

16

10

Rated short circuit making current(peak)

kA

63

50

63

50

11

Short time (2s) withstand current, load switch/earth

kA

25/20

20/20

25/20

20/20

12

Rated withstand current(peak)

kA

63

50

63

50

13

Mechanismlife

Times

3000

10000

3000
Single Line Diagram on 3 Leg Outdoor RMU (CVC)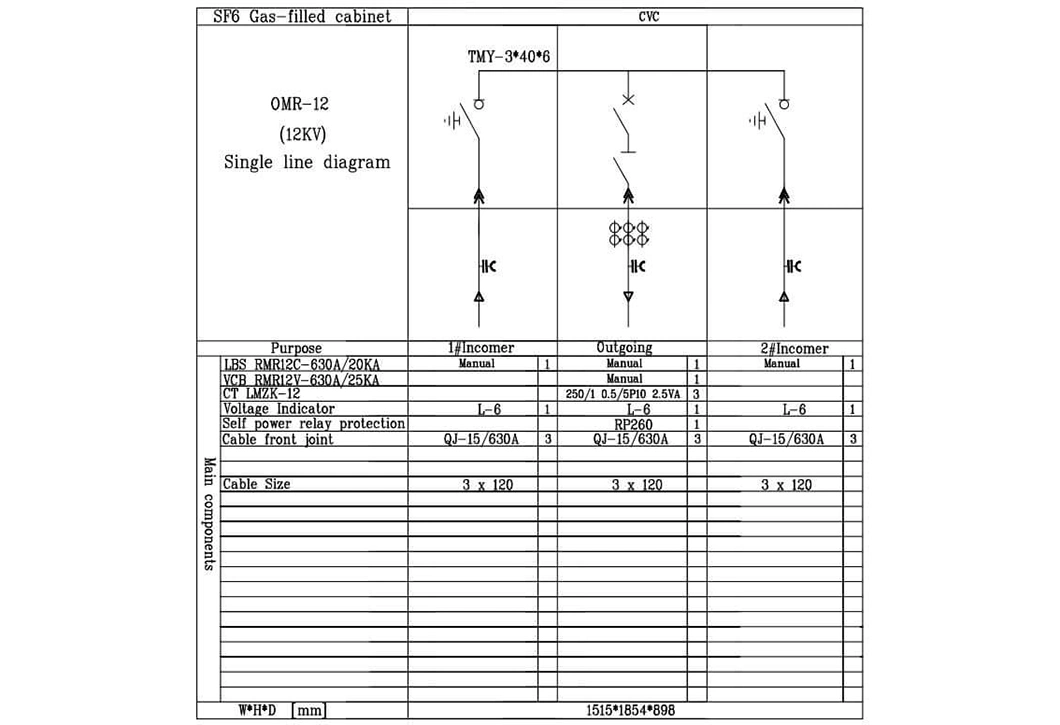 Structure Diagram on 3 Leg Outdoor RMU (CVC)