VFP-S Variable Frequency AC Power Source - 100KVA
(Customized output voltage)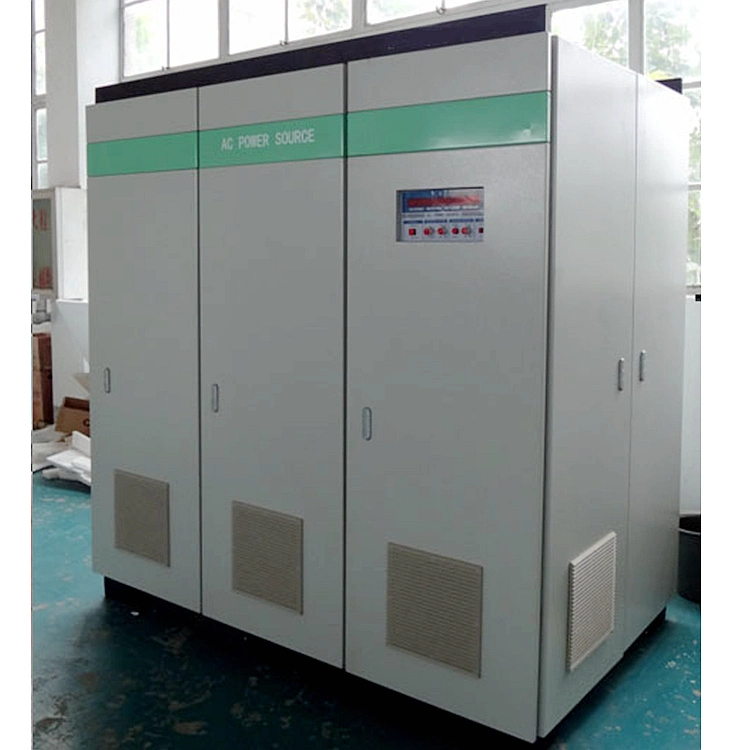 Brief Introduction
The VFP-S series is single-phase output model which has various output range from 500VA to 200KVA, it has high resolution & stability and full protection functions, output voltage & frequency continuously adjustable and easy operation-panel. It's widely used as a simulated AC input for equipment or home appliance testing.
Features:
1. Output voltage & frequency adjustable via potentiometer or key button
2. Output Range:
a. Voltage - Low level: 0~150V, High level: 150~300V or 0~300V continuously adjustable (best simulate input voltage of different countries)
b. Frequency: 45~70Hz (adjustable)
50Hz, 60Hz, 100Hz, 200Hz, 400Hz (fixed)
c. Power: 500VA ~ 200KVA for selection.
3. High output voltage accuracy and output frequency stability
4. Response time: 2ms
5. 0.5% load stability.
6. ±1.5% waveform distortion (resistive load)
7. High-accuracy display for output voltage, current, frequency, power & power factor.
8. Full Protection functions (over voltage, over load, over temp, over current, short-circuit)
9. Friendly Operation Panel
Applications
1. For electron-products testing, debugging, powering for electro-instrument
2. Electromotor, electron manufacturing, IT industry, computer, labs and so on.
3. Other situations that need frequency conversion power supply
General Technical Specification
Model

VFP-S 100KVA

Capacity

100

KVA

AC Input

Phase

Three-phase / four-wire

Voltage

24

0V

ac

±1

5

%

, 50/

60Hz±

5

%

AC Output

Phase

Single-phase

Voltage

0.5

V

~ 600.

0V

ac (continuously adjustable)




Adjusting step: 0.1V

Frequency

50Hz / 60Hz

Max. current

167A

Circuit mode

SPWM mode

Control mode

Key button

Output waveform

Sine wave

Frequency Stability

≤

0.1%

Load Stability

≤

1%

Line Stability

≤1%

Output voltage Distortion

≤1.5

%

(resistive load)

Dynamic feature

≤5% voltage change @ 100% on-load / off-load, resume time: 20ms

Over current protection function

105%, 10min.




120%, 1min.




150%, 30sec.




200%, 10sec.




300%, shutdown immediately

Shock resistance function

Could bear inductive load with 1.5 times of rated power.




Could bear rectifying load with no more than 3.0 crest factor.

Memory function

Automatic memory for working parameters of last operation.

Preset function

Output frequency & voltage presettable under standby state.

On-line setting function

Output frequency & voltage settable during working state.

Communication port

Ethernet port




(note Ethernet port is transferred via adapter of RS port and Ethernet)

Efficiency

≥

85%

Display

LCD

Display resolution

Frequency Meter

0.1Hz

(within 100Hz)

Voltage Meter

0.1V

Current Meter

1A

Power Meter

0.1KW

Protection functions

Auto tripping and alarm when over load, over temp, over current and short-circuit.
(Input & output no fuse breaker)

Cooling

Forced air cooling

Environment

Relative humidity

0-90%

(non-condensing)

Working temperature

0

ºC

~ 4

0

ºC

Height

≤

1500

m

Size

(W*D*H) (

mm

)

134

0*

740

*

1500
Input voltage: power source voltage can be changed on request.
Custom-made specifications are available.
Products gallery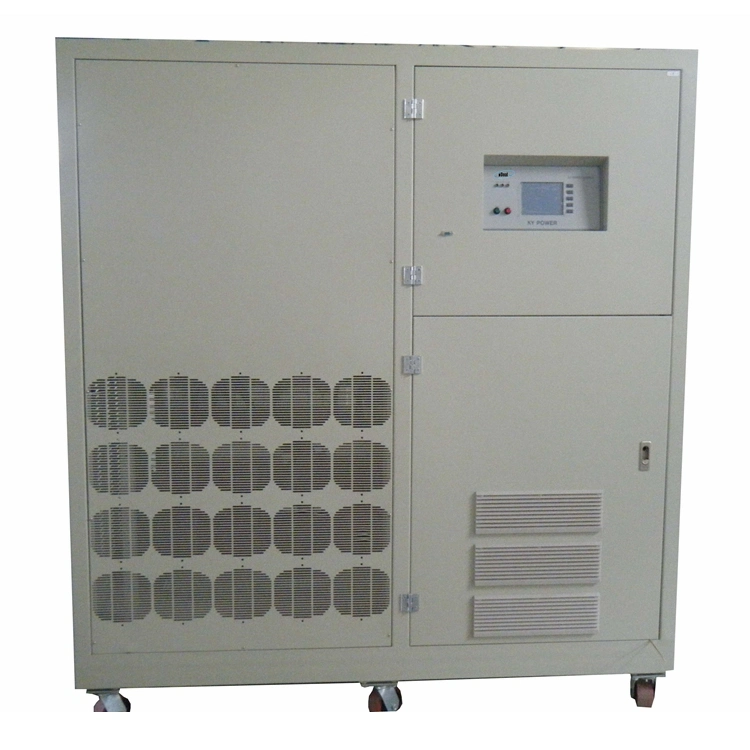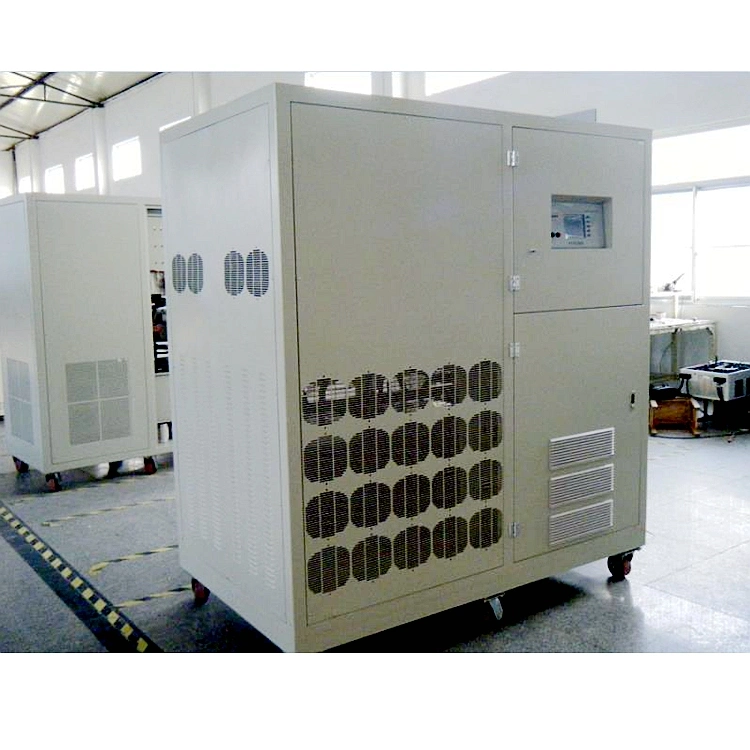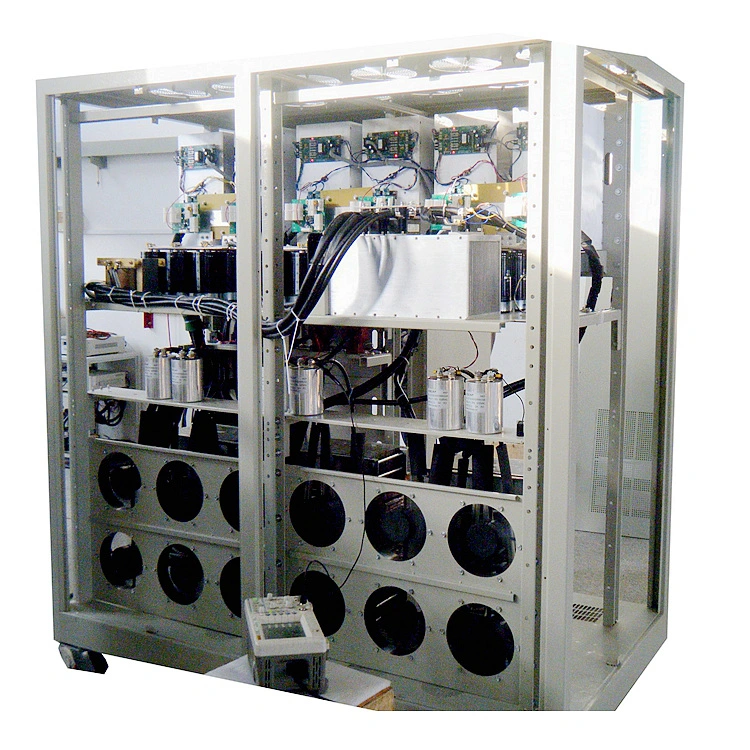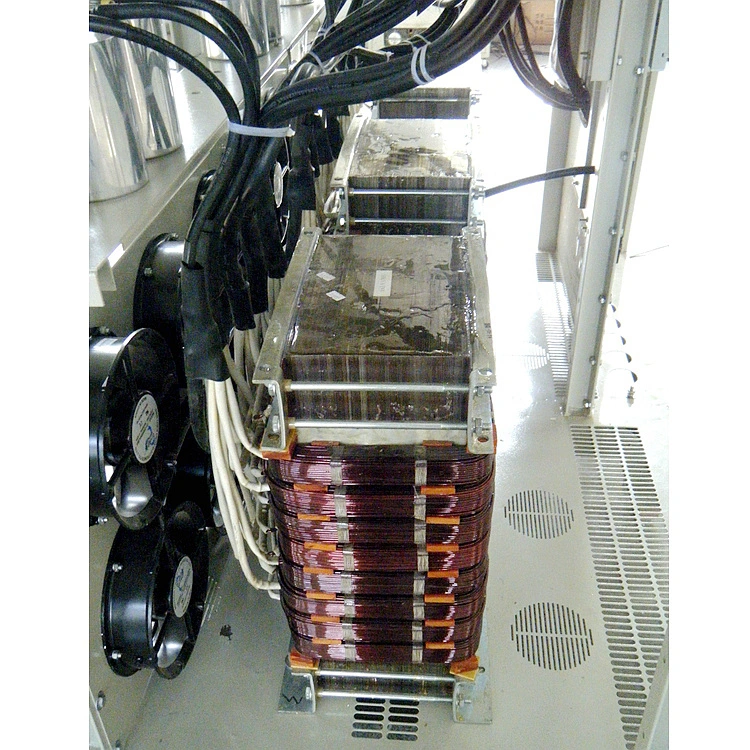 Storage
Pay attention to the following points during temporary & long-term storage.
1. Store the power supply in our packing box
2. Long-term storage would lead to electrolytic capacitor degradation, it should be powered up yearly, at least 5 hours power-on time, input voltage should be increased to rated value by voltage regulator.
Warranty
1. The warranty period of this product is 12 months, free repair within warranty period except for man‐made damages or irresistible forces.
The following cases during under warranty are not included in free-warranty scope:
(1). Incorrect operation & maintenance of the power source that cause fault.
(2). Natural loss of consumable material (shell, connector etc.)
(3). Manual damage caused by modification or dismantle
(4). Damage caused by external equipments or third-party product or plug-in units.
(5). Force majeure factors, such as fire, flood or input grid abnormal.
(6). Unilateral amendment or modification on our LOGO or part number.
(7). Fault caused by abnormal usage of power source.
(8). Other non-product quality causes
2. Reasonable maintenance & repair costs should be charged after warranty period.
Remark: Price offered in this page is for reference only, price changes would be made without notice
Please contact us for accurate offering, thanks for understanding.